This is Books for America.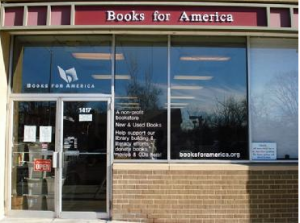 Did you know this bookstore? Do you live in Washington, DC or in the "area" and do you love books? Come in. You should know this place.
I spent hours and hours here at this little used books store, any day of the week, any season (I came here even during snowstorms). I always think that I will find that book that was waiting for me… and I leave the store with three, four or seven books each time.
To me, this is one of the most interesting spots I know in DC. It is where I feel really happy in this foreign city. I arrived in town around four years ago. Now, I'm leaving. Coming back to SouthAmerica. I am one more of the visitors in this city of people in transit, students, politicians, diplomats. People I have never met but that I constantly see in the street –I always wonder who are the Washingtonians, what they do, how they live.
For many people, Washington is a dull city, a town with gigantic monuments, public buildings, embassies. But despite the monumentality of its buildings and its symbolic weight for Americans, its true attractions are small: Washington is a city of details (for who is interested in a city rather than a mall).
When I arrived I found a very short city and sky everywhere. I felt that Washington was not a welcoming city, with its avenues like horizons. I felt that it was a city still to be constructed, with its sad frontiers melting with the suburbs and the country. What I realized time after that it was that Washington is not a city to be constructed, but a city to be unfolded. You get to know it little by little. One friend of mine that had lived here told my husband and me when we arrived: "What I miss the most from Washington is 'Books for America'". So there we went to see. And it was a wonderful surprise to find an old books store with such a good energy, with a first classselection of books, and so cheap! It had so many titles, so interesting… As Borges said, "I have always imagined that Paradise will be a kind of library." We felt impressed by this little bookstore.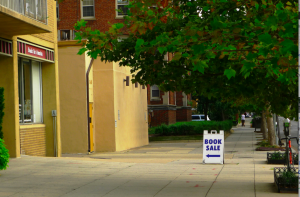 To tell you more about the place, Books for America is not just a used book store but a non profit organization that aims to improve libraries in schools, shelters and prisons, support reading and education programs and provide children with first take-home books. It was created in October 2005 to "have a positive effect on literacy and educational in the Washington area", as they state in their webpage, where they also say: "Beyond literacy, we seek to place books in the hands of anyone who wants to read and learn.  Books can be tools that help individuals rise up out of unfortunate circumstances" and "since our entire mission is to get books into people's hands, you get fantastic books at ridiculously low prices!"
They ask for books, CDs, DVDs and other items, many of them they sell it at the bookstore and others they give them to needy institutions. They select the books people donate: all of the books on sale are books in very good/excellent conditions; most of them are almost new. The money they make with the sell of books they use it to expand their supportive educational programs. All the staff is volunteer. I am so happy to have met Josh and Kate, very interesting and always good-humored people. I learned about America through this non-profit organization: how a community can organize itself to help others.
I also created an American literature section in my bookcase, but also I bought books about design, architecture and new media. And also, I learned about Washingtonians themselves. Studying the bookstore catalogue is possible to read Washingtonians through what they read. I found a highly educated and diverse community, interested in art, philosophy, history, and politics, (of course!) but also, and especially, in literature. It is noticeable as well the fast this community changes, with people coming and going back home, packing and unpacking libraries, donating their books and buying others. (I myself donated many Portuguese and Spanish language books!)
Now I am leaving DC. I have already packed my library (once again) and my entire house is now in a container heading South America carrying boxes and boxes full of the books I bought here (In total we bought around 400 books) and I will read for the next years far away from this beautiful city.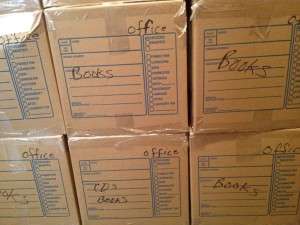 Washington has a lot of hidden places. You have to be especially alert in DC to really get to know this city. Walk all its streets; step in every restaurant, every café, every bookstore (it is not overwhelming… they are not a lot!) You have to walk the city, find an interesting book in Politics and Prose or come to Books for America when in Dupont Circle. But also go out in the hottest days in summer, go to Dolcezza for an ice cream (they are Argentinians!) walk on the fallen leaves during October in the narrow streets that lead you to the Philips Collection, see snowing through the window of a café in Upper Georgetown. They are not big places; none of them are monumental. They are just special. This week, go to the Tidal Basin to see the cherry blossom, but look for some small charm in DC, some small place for happiness, as this bookstore is for me.