Over spring break, I visited a friend in Boston and we spent a day in Concord, MA, visiting the homes of our favorite 19th century writers. Though apparently tourist season doesn't begin until mid-April and none of the homes were open to visitors yet, it was still surreal to walk around Concord and imagine the lives that had been led there. I obviously considered sticking QR codes all over the place, but ultimately decided I didn't feel right leaving my mark–maybe something about preserving my idyllic view of the past? Despite the fact that I traversed Walden Pond with iPhone in hand and Instagrammed up a storm (which is to say, I very much remained in the 21st century) it just seemed like these spots didn't deserve the blemish of my sticker and accompanying blog post. But I digress, and will share my photos anyway:
and a gratuitous scenery shot, since Walden Pond was pretty unbelievable–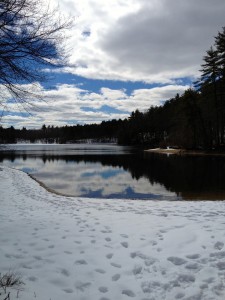 At any rate, it was a lovely trip back in time. I also came across this advertisement while walking around downtown Boston–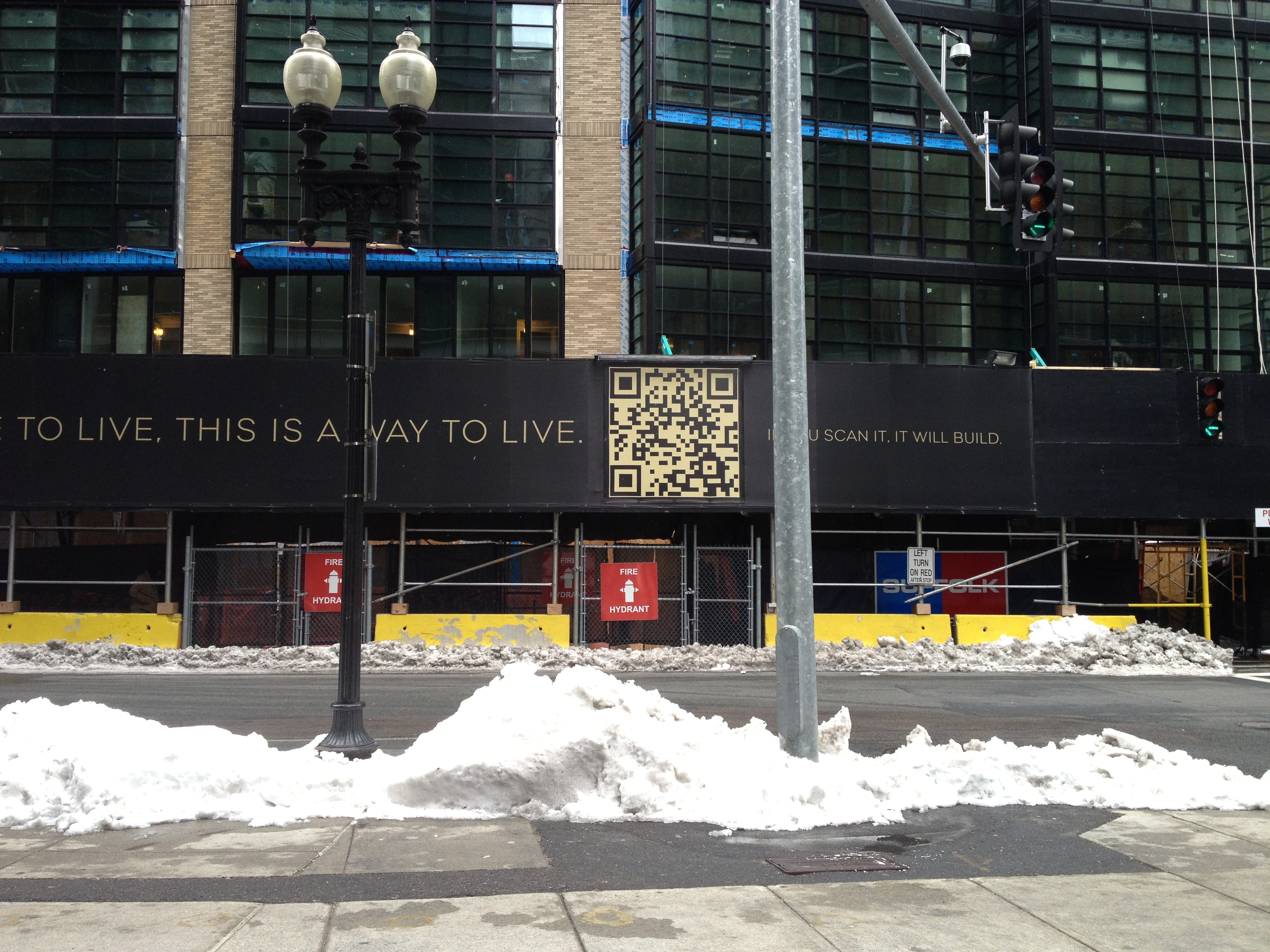 A perfect example of a QR code used in advertising! A new apartment complex was clearly being built and scanning the QR code takes you to the building's site. The slogan there, slightly obscured by a pole (I haven't quite mastered the surreptitious picture-taking-while-walking move yet) says, "If you scan it, it will build." I can't decide if it's clever or not.
But on to the actual assignment!
I live in The Chateau Apartments at New Hampshire and the beltway, and the spot I chose to mark is the entryway sign, which welcomes me home every day. It is always a welcome sight, especially because the sign is usually adorned with colorful balloons (though not today when I took my picture, of course) and I weirdly think it's super endearing.
Obviously moving out to Maryland from St. Louis for my first year of graduate school was a big transition, and I had to find a place to live in 36 hours. The concept of "home" means a lot to me, so I'm thankful to have found a place (with such a glamorous name!) to hang my hat. This picture I took coincidentally matches the "Street View" of The Chateau Google Maps provides (linked above) and clearly marks the apartment complex.
When I got home from spring break yesterday afternoon, I had major car debacles and delayed flights to deal with, so driving up the hill to The Chateau sign was particularly comforting. It's no Old Manse, but it's still all mine!
To again reference my extreme Instagram usage, I'll also note that I almost always add my location to my photos and thus, "The Chateau Apartments" are clearly marked and represented in the digital archive of my life. Instagram recently came out with a "Photo Map" feature which visually shows you where you most often take photos. The further you zoom in, the more specific the locations get. So, for instance, I've taken 194 photos in Silver Spring, and 148 of those were at–you guessed it–The Chateau Apartments. It's interesting to consider geographically (and quite quantitatively) where we spend our time, and which spaces in our lives we prioritize over others.

I've made my QR code and allowing that I can find a functioning printer in Tawes, will adhere it to the sign tonight, pictures forthcoming. I wonder if anyone will actually walk close enough to the sign to ever notice it? (The sign is the in the middle of the traffic circle entryway).
Update: I've affixed my QR code with copious amounts of tape to the back of my Chateau sign (for the sake of subtlety). Here's hoping someone notices!