When I first moved to DC at the beginning of 2012 to begin graduate school, I was very excited to learn almost all the museums are free.  This was a huge change from New York City–where I moved from–where entry to museums could be upwards of the "suggested" amount of $20.  Even better, the closest one to me is actually two-in-one and is only a quick 7 block walk from my apartment. The National Portrait Gallery and The American Art Museum are housed in the same building, which is easily accessible from the red, yellow, and green lines at Gallery Place.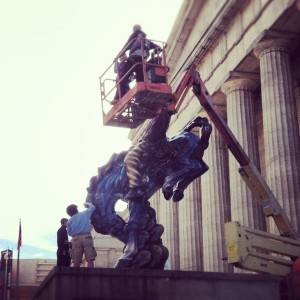 So, on a cold winter's day, I took my first trip to the galleries.  I was only able to spend about an hour there the first time I went, but it was ok because it hadn't cost me a thing!  The next time I returned, my parents were visiting during the July heatwave.  This time, it was a welcome reprieve from the sweltering sun.  In September, friends and I dipped in to kill time before a movie at Gallery Place on a rainy day.  On each occasion, there was something new to see and I didn't feel pressured to see everything in one go knowing I could make a quick walk down there at any time.
When I started work at the new J. Crew around the corner from the Portrait and American Art Galleries in July, it became the ideal place to do lunch.  My coworkers and I would grab sandwiches and rest our weary feet and thaw out from the AC constantly blasting in the store on the gallery's steep stairs.  This proved to be a popular spot for those on lunch around Gallery Place.  It is also a popular bathroom for the local pigeons, so you have to be careful where you sit.  When the weather got cold, the gallery's gorgeous atrium became the place to lunch.  With its ornate lattice ceiling, indoor fountains, and fauna, it made for a tropical getaway from the winter.
But perhaps the reason the Portrait Gallery is most significant to me is it was where my boyfriend and I sat talking on the steps for an hour after our first date.  We had had dinner and drinks and were at a loss for what to do next, but it was a beautiful September evening, so we decided to take a seat and get to know each other more.  At the end, he asked me for a second date.
Needless to say, there are many reasons the Portrait Gallery has become one of my favorite places in DC.  There are also many places to put a QR code.  I felt a little strange posting my rather large QR code onto the galleries' outdoor signage by the steps.  Part of me felt like I was defiling the poster, but I only used tape, so it is easy to remove if any curator or custodian feels the need.  I'm sure one of the capital's many spring break tourists (they're everywhere!) will be at least a little curious to find out more.
Interestingly, I came across this article while working on this week's exercise.  Granted, I had to download a free QR reader for this exercise, as I had never bothered with one before, however, these new technologies still seem to have the same download-and-scan properties as the QR code.  So is the QR code really dead or is it just being modified?  Since technology is always changing, either option is certainly possible.