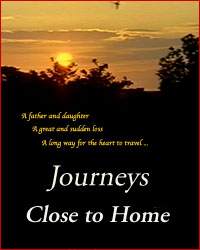 This sensitively-told, visually poetic story is a journey into an experience of love and loss. The close, warmly affectionate relationship between a girl and her father is shattered when he dies suddenly. The road ahead is full of real dangers and the journey is hard. Whether to try to stay alive becomes a real question.
Gradually, she begins to find ways to mourn his death, celebrate his life, and live.
With cinematography by Morten Bruus, moving telling by Clare Corbett, music by Flemming Nordkrog and Franz Joseph Hayden and poetry of Gerard Manley Hopkins, the film can be appreciated simply as film, and can also, if desired, serve as a springboard for reflection and conversation about loss and grieving.

Color, 20 minutes - Script and Direction: Jo Francis
For video and broadcast distribution information contact Flare Productions: jf@flarefilms.org