AADHum Scholars: 2019–2020
AADHum Welcomes Third Cohort of Black Digital Humanities Scholars
The African American History, Culture and Digital Humanities (AADHum) initiative at the University of Maryland is proud to announce the 2019–2020 cohort of AADHum scholars. Started in 2017, this community of practice centers Black life and theory in their extensive engagement with digital tools. Most importantly, this program offers AADHum scholars space and support to incubate their own Black Digital Humanities (DH) work. This marks the third and most competitive year of AADHum's premier program.
AADHum is delighted to welcome a cohort that is actively working to make significant interventions in Black DH through American Studies, History, English, Geography and Sociology. The cohort is furthered enriched by a broad range of career stages and trajectories, as well as institutional affiliations among the scholars.
The AADHum Scholars program is generously funded by The Andrew W. Mellon Foundation, as well as by the College of Arts & Humanities and the Maryland Institute for Technology in the Humanities at the University of Maryland.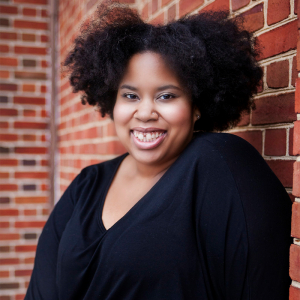 Brienne Adams
Ph.D. Student, American Studies, University of Maryland, College Park
Brienne Adams is a Ph.D. student in American Studies at the University of Maryland, College Park. She received her M.A. in Afro-American Studies from the University of California, Los Angeles and B.A. in Literature Studies from Beloit College. Her dissertation research explores how fans engage Black popular culture depictions of intimate relationships on social media platforms. Adams' AADHum project focuses on developing a digital dissertation chapter as a public-facing representation of her work and an online platform for Black popular culture fans to discuss their 'fan objects' and the affective connections to their intimate lives.
Adams' dedication to Black Digital Humanities is rooted in the possibility of 'the digital' to facilitate healing and liberation through a broad connection to Black communities.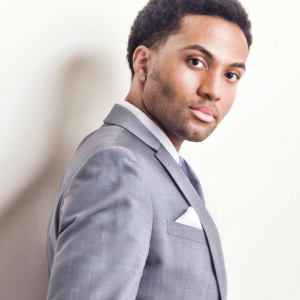 La Marr Jurelle Bruce
Assistant Professor, American Studies, University of Maryland, College Park
La Marr Jurelle Bruce is an Assistant Professor of American Studies at the University of Maryland, College Park. He is an interdisciplinary humanities scholar, literary and cultural critic, Black Studies devotee and Afromanticist. Bruce's areas of interest and expertise include Africana literature and performance, U.S. popular culture, queer theory, psychoanalysis, Mad studies and the art and aesthetics of quotidian Black life. He earned his B.A. in English and Comparative Literature and African American Studies from Columbia University and his Ph.D. in African American Studies and American Studies from Yale University. Along the way, Bruce's work has been supported by grants and fellowships from the Ford Foundation, the Andrew W. Mellon Foundation, the Fund for Lesbian and Gay Studies at Yale University, and the Carter G. Woodson Institute at the University of Virginia, among other organizations.
Winner of the 2014 Joe Weixlmann Award for best essay in twentieth-and twenty-first century African American literature and culture from African American Review, Bruce has also published in American Quarterly, The Black Scholar, GLQ, Social Text, and other journals. His first book, How to Go Mad without Losing Your Mind: Madness and Black Radical Creativity (Duke University Press, Fall 2020), is a study of Black artists who mobilize madness in radical literature and performance. His second book project, The Afromantic, will generate a cultural history, critical theory, existential expression and matrix of Black joy and love amid anti-blackness.
Bruce's AADHum project concerns Black joy in digital worlds. He will explore how Black joy moves and spreads virally online alongside and against representations of Black suffering that often overrun social media spheres.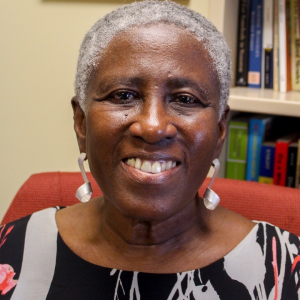 Merle Collins
Professor, English and Comparative Literature, University of Maryland, College Park
Merle Collins is Professor of English and Comparative Literature and Director of the Latin American Studies Center at the University of Maryland, College Park. She received her dual B.A. in English and Spanish at the University of the West Indies; M.A. in Latin American Studies at Georgetown University and Ph.D. in Government from the London School of Economics. Collins' current research interests include the history of Louise Langdon Norton Little, Caribbean (Grenadian) mother of Malcolm X; Caribbean migration and diaspora formations in the United States and Britain; the impact of Marcus Garvey on hemispheric American philosophical thought; and, as part of her Langdon Norton Little research, the influence of motherhood on the Black radical imagination.
Collins' AADHum project focuses on furthering her research on Langdon Norton Little, issues of ethics in research and the role of digitization in the publication and dissemination of scholarly work. Her other research interests include literatures of Latin America and the Caribbean and politics and society in Grenada. Collins has also started an oral history project on Grenadian students in Cuba (1979-present). She has published prose, poetry and critical essays, and is the producer of a documentary film, Saracca and Nation, which explores African influences on Caribbean (Grenadian) culture.
Collins is inspired by the possibility of using technology to further excavate the archival work that underscores research in Black Studies and efforts to understand the complex stories of Black humanity.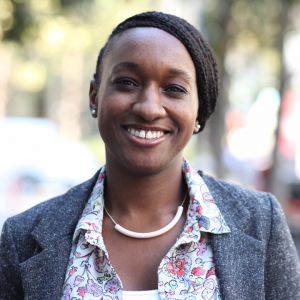 Adrienne Hall
Ph.D. Student, Geography, University of North Carolina, Chapel Hill
Adrienne Hall is a Ph.D. student in Geography at the University of North Carolina at Chapel Hill. Adrienne is interested in the politics of health and place, Black geographies and Black humanities. Hall received her B.A. from the University of Southern California and her M.P.H. from San Francisco State University. At San Francisco State, her research focused on the relationships between racism, redevelopment, displacement and community health. Since 2016, Hall has been a member of the Anti-Eviction Mapping Project (AEMP), a feminist digital cartography and storytelling collective, through which she has collaborated on grassroots projects to make visible the injustices of displacement and local stories of resistance.
Hall has worked with AEMP to co-produce an oral history zine and public workshop series entitled (Dis)locations: Black Exodus, that documents the past, present and possible futures of Black San Francisco. Hall's AADHum project reimagines Black Exodus as a Black Digital Humanities project. Her Digital Humanities work is inspired by the history, cultural work and activism of Black communities resisting oppression in the San Francisco Bay area and throughout the globe. Hall is deeply influenced by the freedom visions and creative political praxis of the EastSide Arts Alliance collective in Oakland, California.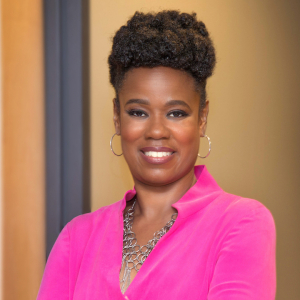 Adrena Ifill
Independent Producer, Ifill/DoubleBack Global Group
Adrena Ifill is an award-winning cultural entrepreneur and producer. As C.E.O. of Ifill/DoubleBack Global Group, a cultural heritage management firm, she has written and directed several historical films and managed Digital Humanities projects. Ifill earned her B.A in Political Science and honors thesis in African American Studies from Williams College; M.B.A. from Howard University; and she is a graduate of the Institute for Documentary Filmmaking at George Washington University. She also serves on several educational and philanthropic boards and is passionate about cultural exploration.
A recipient of the 2015 J. Franklin Jameson Archival Advocacy Award from the Society of American Archivists, Ifill is committed to the work of chronicling and preserving Black history and culture. Her AADHum project focuses on augmented reality and the Reconstruction era. Working across skill sets and using technology, Digital Humanities is a field that she has embraced for its innovation, historic implications and responsiveness. Ifill's inspiration came from her parents who filled their home with personal stories and Black history books.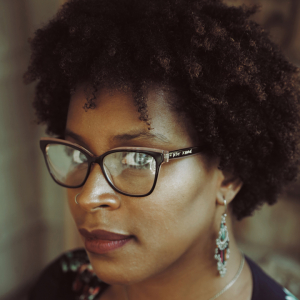 Jessica Marie Johnson
Assistant Professor, History, Johns Hopkins University
Jessica Marie Johnson is an Assistant Professor of History at Johns Hopkins University. She earned her B.A. in African and African American Studies at Washington University and M.A. and Ph.D. in History from the University of Maryland, College Park. Johnson is a historian of Atlantic slavery and the Atlantic African diaspora. She is the author of Wicked Flesh: Black Women, Intimacy and Freedom in the Atlantic World (University of Pennsylvania Press, August 2020); guest editor of Slavery in the Machine, a special issue of sx:archipelagos (2019); and co-editor with Mark Anthony Neal (Duke University) of Black Code: A Special Issue of the Black Scholar (2017). Johnson's work has appeared in Slavery & Abolition,The Black Scholar, Meridians: Feminism, Race and Transnationalism, American Quarterly, Social Text, The Journal of African American History, William & Mary Quarterly, Debates in the Digital Humanities, Forum Journal, Bitch Magazine, Black Perspectives (AAIHS), Somatosphere and Post-Colonial Digital Humanities (DHPoco). Her book chapters have appeared in multiple edited collections.
Her second book project, Dark Codex: History, Blackness and the Digital explores how images and texts created in difficult pasts resonate across digital and social media. In Dark Codex, she explores the ways research, teaching, and theories generated from the study of Atlantic African diaspora history and les damnes de terre—the dispossessed, the fugitives, queer folk, immigrants and femmes of color—function as the unforeseen and oft-ignored heart of the field of Digital Humanities. Johnson's AADHum project involves the creation of what she calls "speculative censuses," or datasets that surface the uncounted and unaccounted for in eighteenth-century Louisiana archives of slavery as a route into Black fugitivity beyond dispossession.
Johnson's Black digital practice is inspired by her obsession with kinship and accountability to the Kitchen Table.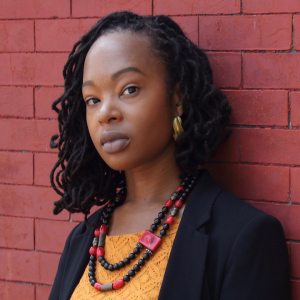 Amaka Okechukwu
Assistant Professor, Sociology, George Mason University
Amaka Okechukwu is an Assistant Professor of Sociology at George Mason University. She is an interdisciplinary scholar engaged in research on social movements, race, Black communities and urban politics. Okechukwu completed her Ph.D. in Sociology from New York University. She formerly served as the oral historian and associate archivist at Weeksville Heritage Center in Brooklyn, N.Y. and as the project coordinator of the Voices of Crown Heights oral history collection and affiliated public engagement at Brooklyn Historical Society. She is the author of To Fulfill These Rights: Political Struggle Over Affirmative Action and Open Admissions (Columbia University Press, 2019).
Okechukwu's AADHum project, Spatializing Resistance: An Interactive Map of Community Building and Organizing in Central Brooklyn, traces Black resistance during the urban crisis of the 1970s and 1980s. She believes that Black Digital Humanities is a promising site to engage broader publics in research on Black communities and Black resistance.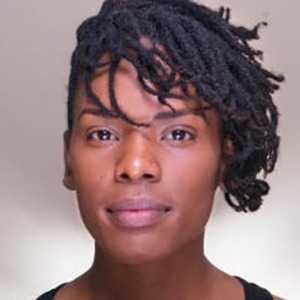 Jasmin A. Young
President's Postdoctoral Fellow, African American Studies, University of California, Los Angeles
Jasmin Young is a University of California President's Postdoctoral Fellow in African American Studies at the University of California, Los Angeles. As a historian, her research interests focus on Black twentieth-century freedom struggles with specialization in the Black Power Movement (BPM). Young's Digital Humanities project derives from her extensive research on Black women in the BPM and her role as an editor of the Black Power Encyclopedia: From "Black is Beautiful" to Urban Uprisings (Greenwood, 2018).
Young's AADHum project focuses on building a Black Power Digital Archive (BPDA). The chief aim of the BPDA is to collect, preserve and digitalize first-person accounts from BPM participants, including audio and visual recordings of personal interviews and oral histories (1955-1985). She sees oral history as particularly useful in amplifying the voices of individuals who are least likely to appear in traditional archives, and she believes that the importance of oral history to the BPM is instructive for understanding its impact on U.S. politics, medicine, education, law, literature and the arts.
Jasmin is inspired by the possibilities of evolving technologies, new media and digital platforms to enhance public knowledge of the BPM, which articulated an expansive vision of freedom and was one of the most prolific moments in U.S. history.