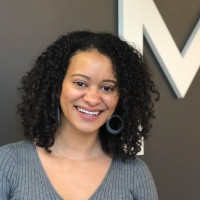 Assistant Professor of Communication + MITH Affiliate Assistant Professor
Catherine Knight Steele is a native Chicagoan who received her doctorate in Communication from the University of Illinois at Chicago in 2014. She previously served as an assistant professor at Colorado State University. Her research focuses on African American culture and discourse in mass and new media, and publications have appeared in the Howard Journal of Communications and Intersectional Internet: Race, Sex, Class, and Culture Online (Peter Lang, 2016). Her dissertation, "Digital Barbershops: The Politics of African American Oral Culture in Online Blog Communities," explored the politics of African American blogs as contributing to online counterpublics and secondary orality. She is currently working on a monograph about digital black feminism and new media technologies.
Steele is the first Project Director of African American History, Culture and Digital Humanities (AADHum), for which she will lead up initiatives to prepare a diverse cadre of scholars and students whose work in African American History & Culture and the Digital Humanities will enrich arts and humanities research and teaching with new methods, archives, and tools.