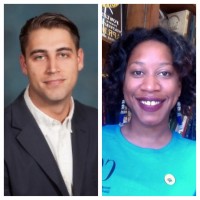 Sarah Patterson
PhD Candidate, Department of English
University of Delaware
Jim Casey
PhD Candidate, Department of English
University of Delaware
MITH Conference Room
Tuesday, November 8, 2016
12:30 pm
Staking a claim in collaborative models of digital archiving, exhibition and geo-spatial visualization, Sarah Patterson and Jim Casey will introduce questions, concepts and outcomes central to the Colored Conventions Project's online restoration of the Colored Conventions Movement, 1830-1900. Working with literature and data connected to this understudied phenomenon in Black political organizing, Patterson and Casey will discuss the ways CCP's interdisciplinary team produces narrative-centric exhibits and interactive visualizations for multiple learning communities. This presentation will especially chart CCP's interest in tackling key questions on its journey to creating DH content for those interested in social justice pedagogies and collaborative knowledge production.
Questions of focus will include: How do we better grasp women's instrumentality through mapping technologies that magnify their activities within historical spaces connected to the movement? How do social network analyses contribute to our understanding of Black convention leadership? In what ways do concepts of power and authority impact computing and technology-selection as the project emerges within a broader landscape of Black histo-digital studies? We seek to highlight DH praxis and pedagogies to enhance what scholarly and public audiences know about the debates, people, places and texts related to the seven-decades-long campaign for Black rights.
See below for a Storify recap of this Digital Dialogue, including live tweets and select resources referenced by Casey and Patterson during their talk.
Sarah Patterson is a PhD candidate in English at the University of Delaware and a Co-coordinator with the Colored Conventions Project. She specializes in nineteenth-century African American (women's) literature, print culture and Black histo-digital studies in the digital humanities. Sarah's dissertation examines Black intellectual cultures and ideals, particularly through the lens of Black women's educational philosophies in literature.
Jim Casey is a PhD candidate in English at the University of Delaware with research interests in antebellum American print culture and the digital humanities. His dissertation charts the development of editorship and editorial practice in antebellum newspapers. He has served as the co-coordinator of the Colored Conventions Project. Read more about Jim on his website here.
A continuously updated schedule of talks is also available on the Digital Dialogues webpage.
Unable to attend the events in person? Archived podcasts can be found on the MITH website, and you can follow our Digital Dialogues Twitter account @digdialog as well as the Twitter hashtag #mithdd to keep up with live tweets from our sessions. Viewers can watch the live stream as well.
All talks free and open to the public. Attendees are welcome to bring their own lunches.
Contact: MITH (mith.umd.edu, mith@umd.edu, 301.405.8927).