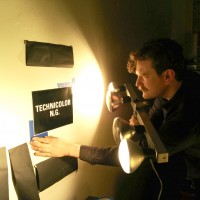 Walter Forsberg
Media Archivist
National Museum of African American History and Culture – Smithsonian Institution
MITH Conference Room
Tuesday, November 7, 2017
12:30 pm
Walter Forsberg, Media Archivist for the National Museum of African American History and Culture at the Smithsonian, will present an overview of the new museum's audiovisual digitization programs and activities, in place since 2014. Forsberg will discuss how NMAAHC established digital file-management workflows, target specifications, equipment sourcing, and access platforms, alongside screenings of newly-digitized collections. He'll showcase highlights from the museum's "Great Migration Home Movie Digitization" public project, and announce details regarding the institution's new Robert F. Smith Fund—a partnership program aimed at digitizing and sharing collections of African American cultural material held by other institutions.
See below for a Storify recap of this Digital Dialogue (now migrated to Sutori), including live tweets and select resources referenced by Forsberg during his talk.
Walter Forsberg works in film culture and is Media Archivist at the Smithsonian's National Museum of African American History and Culture. Alumnus of New York University's Moving Image Archiving and Preservation graduate program, Walter was the technical architect of the New Museum of Contemporary Art's XFR STN exhibition, winner of the 2014 Innovation Award for digital stewardship from the Library of Congress. His recent writing on film appears in BlackFlash magazine, the Strange Currencies: Art & Action in MexicoCity, 1990-2000 exhibition catalog, and in the INCITE Journal of Experimental Media, where he is a contributing editor.
A continuously updated schedule of talks is also available on the Digital Dialogues webpage.
Unable to attend the events in person? Archived podcasts can be found on the MITH website, and you can follow our Digital Dialogues Twitter account @digdialog as well as the Twitter hashtag #mithdd to keep up with live tweets from our sessions. Viewers can watch the live stream as well.
All talks free and open to the public. Attendees are welcome to bring their own lunches.
Contact: MITH (mith.umd.edu, mith@umd.edu, 301.405.8927).