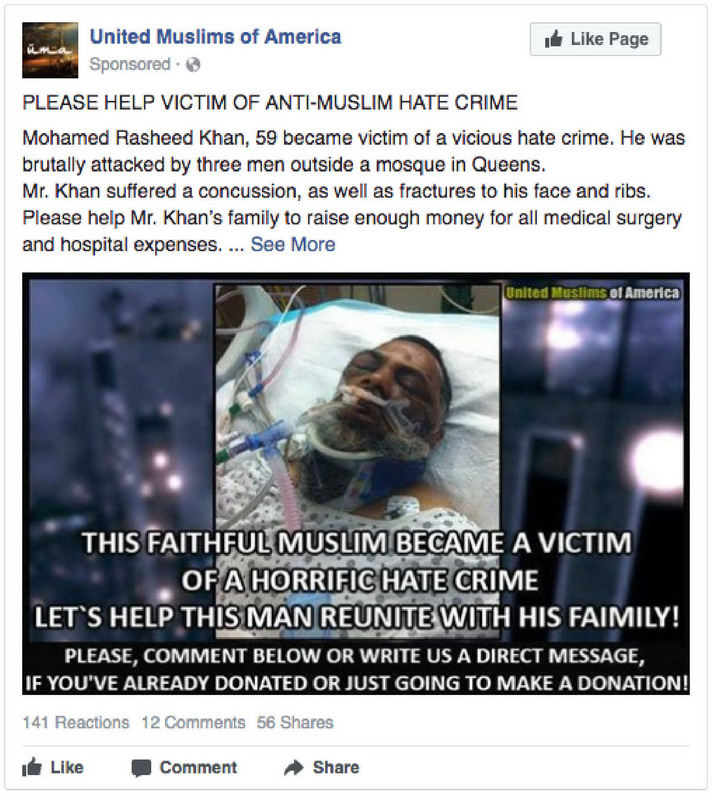 Dublin Core
Title
PLEASE HELP VICTIM OF ANTI-MUSLIM HATE C…
Description
PLEASE HELP VICTIM OF ANTI-MUSLIM HATE CRIME

Mohamed Rasheed Khan, 59 became victim of a vicious hate crime. He was

brutally attacked by three men outside a mosque in Queens.
Mr. Khan suffered a concussion, as well as fractures to his face and ribs.

Please help Mr. Khan's family to raise enough money for all medical surgery

and hospital expenses.
If you are unable to help financially, we understand. Please share this

fundraising post with others so more people become aware! I believe -
together we can do this!

In this month of Ramadan we kindly ask everyone to keep Mohamed
Rasheed Khan in your prayers for his well being and a speedy recovery! Let's

help our fellow brother reunite with his family. InsAIIah!
To make a donation, follow the link: https://goo.gl/RJF9Vf

P.S. Comment below or write us a direct message, if you have already
donated orjust going to donate.
Advertisement Item Type Metadata
+