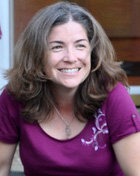 Sheila Brennan
Associate Director and Research Assistant Professor
Public Projects division at the Roy Rosenzweig Center for History and New Media (CHNM); Department of History and Art History at George Mason University
MITH Conference Room
Tuesday, November 27, 2012
12:30 pm
Cultural heritage collections represent important sources for scholars and enthusiasts, and offer ways for us to listen and learn from peoples and processes that are missing from documentary sources. Museum collections help to fill those gaps, but finding those types of collections and data online is challenging.  With many students and scholars beginning their research with online search and discovery tools, if cultural heritage collections are not visible online, in some form, what are the implications of these absences? Do those objects and the stories that they help us to tell remain invisible? Increased online visibility of material culture from museums can increase the use of those objects by instructors, scholars, enthusiasts, and students. Once discovered, there is great potential for the museum to benefit from increased traffic, virtual and physical, and use of their collections which only helps the institution accomplish its mission. In the meantime, historians like me, look to other online collections, such as eBay for accessible online material culture.
I will discuss my research into online history museum collections and some efforts that encourage getting to the stuff.  I wish to engage the audience in answering two big questions: if these collections are online am I correct in assuming that researchers will use them? And, how can digital humanities scholars encourage and advocate for museums to open their collections for discovery and analysis from individuals outside of their institutions.
Sheila A. Brennan is the Associate Director of the Public Projects division at the Roy Rosenzweig Center for History and New Media (CHNM) and Research Assistant Professor in the Department of History and Art History at George Mason University. At RRCHNM, Brennan manages many current and legacy digital projects. Currently, she is the end user coordinator for the Omeka digital publishing platform and is co-leading the development of Hidden Histories of America's Front Lawn, a mobile site uncovering the history of the National Mall.
Prior to coming to RRCHNM in 2005, she worked as the Director of Education and Public Programs at the U.S. Navy Museum in Washington, DC for seven years. She has co-authored essays on teaching the history of technology, doing oral history in the digital age, and on the challenges of online collection projects. Additionally, two of her essays appear in edited collections published by the Smithsonian Institution Press. She has made several presentations on digital history, digital tools, online collecting and archiving, and postal history.
She earned her Ph.D. in U.S. history at Mason and her dissertation, Stamping American Memory: Stamp Collecting in the U.S. 1880s-1930s was awarded the 2010 Moroney Prize for Scholarship in Postal History. In 2012, she was awarded the University of Michigan Press-HASTAC Prize for Digital Humanities to create  a new web project, Stamping American Memory. Her research interests include how museums use the web and digital platforms, material culture and memory, and popular collecting practices.  When not working, she enjoys cooking, eating, and talking about food, and playing outside.
A continuously updated schedule of talks is also available on the Digital Dialogues webpage.
Unable to attend the events in person? Archived podcasts can be found on the MITH website, and you can follow our Digital Dialogues Twitter account @digdialog as well as the Twitter hashtag #mithdd to keep up with live tweets from our sessions. Viewers can watch the live stream as well.
All talks free and open to the public. Attendees are welcome to bring their own lunches.
Contact: MITH (mith.umd.edu, mith@umd.edu, 301.405.8927).