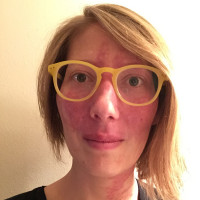 Kristin Carlson
Assistant Professor, Creative Technologies Program
Illinois State University
MITH Conference Room
Tuesday, March 31, 2020
12:30 pm
Co-sponsored by Immersive Media Design (IMDM) at University of Maryland
MITH wants everyone in our community to stay healthy and the best way to do that right now is to avoid meetings or gatherings. With sadness, we canceled the final two Digital Dialogues of the Spring 2020 season. We will work with Jennifer Garcon and Kristin Carlson on a plan to speak at a later date.
Currently, there are many options to track human movement with technology (i.e. capturing body position, number of steps taken, range of motion, how long one has been sitting vs. moving, etc). While these methods tell us a story about our movement, there is more to our experience than technology can tell us yet based on measurements of time and space. My work investigates methods that use technology to reveal what can be known as more "invisible" aspects of movement, which are present but less measurable. These invisible aspects can include qualities of effort, intention, and follow through. Our motivation to move is complex, relying on our self-developed identities, and experiences within the world. We don't isolate movement from our needs and goals, the way technology needs to. Hence, it is difficult to deconstruct our movement without accounting for the invisible. By using strategies such as defamiliarization and documenting motivation and shifts in creative process, we can start to see new aspects that inform movement knowledge. These approaches can imagine ways that technology can develop to better support our experiences.
Kristin is an Assistant Professor in the Creative Technologies Program at Illinois State University, exploring the role that computation plays in embodied creative processes. She has a history of working in choreography, computational creativity, media performance, interactive art and design tools. Kristin is a researcher with the movingstories: Tools for Digital Movement, Meaning and Interaction research partnership exploring the cognition of movement experience and designing movement applications for creativity support tools. She holds a BFA in Dance from the University of Illinois at Urbana, Champaign, an MSc and PhD from Simon Fraser University in Interactive Arts and Technology, studying with Dr. Thecla Schiphorst and Dr. Philippe Pasquier. Kristin holds an AmSat certification in Alexander Technique and is finishing a certification in Laban Movement Analysis.
A continuously updated schedule of talks is also available on the Digital Dialogues webpage.
Unable to attend the events in person? Archived podcasts can be found on the MITH website, and you can follow our Digital Dialogues Twitter account @digdialog as well as the Twitter hashtag #mithdd to keep up with live tweets from our sessions. Viewers can watch the live stream as well.
All talks free and open to the public. Attendees are welcome to bring their own lunches.
Contact: MITH (mith.umd.edu, mith@umd.edu, 301.405.8927).