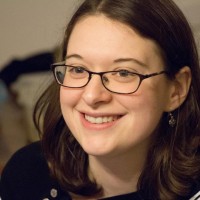 Joanna Swafford
Assistant Professor of English and Digital Humanities
SUNY New Paltz
MITH Conference Room
Tuesday, April 4, 2017
12:30 pm
Although poetry is often treated as silent print on the page, this talk details how digital tools can augment poetry's aural and performed dimensions. The talk presents three such digital projects: Songs of the Victorians, an archive and analysis of musical settings of famous Victorian poems, Augmented Notes, a tool for creating digital scores synched with audio, and Sounding Poetry, a visualization tool for analyzing poetry recitations.
See below for a Storify recap of this Digital Dialogue, including live tweets and select resources referenced by Swafford during her talk.
Joanna Swafford is the Assistant Professor for Interdisciplinary and Digital Teaching and Scholarship at SUNY New Paltz, specializing in Digital Humanities, Victorian Literature and Culture, Sound, and Gender Studies. Her articles have appeared or are forthcoming in Debates in Digital Humanities, Journal of Interactive Technology and Pedagogy, Digital Sound Studies: A Provocation, Victorian Poetry, and Victorian Review, and her book project, Transgressive Tunes: The Politics of Sound in Victorian Poetry, examines the gendered intermediations of music and poetry. She is the project director for Songs of the Victorians, Augmented Notes, and Sounding Poetry, and is the co-founder and coordinator of DASH (Digital Arts, Sciences, and Humanities) Lab at SUNY New Paltz. She is also Head of Pedagogical Initiatives for NINES.org (Networked Infrastructure for Nineteenth-Century Electronic Scholarship).
A continuously updated schedule of talks is also available on the Digital Dialogues webpage.
Unable to attend the events in person? Archived podcasts can be found on the MITH website, and you can follow our Digital Dialogues Twitter account @digdialog as well as the Twitter hashtag #mithdd to keep up with live tweets from our sessions. Viewers can watch the live stream as well.
All talks free and open to the public. Attendees are welcome to bring their own lunches.
Contact: MITH (mith.umd.edu, mith@umd.edu, 301.405.8927).