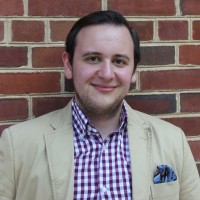 Avery Dame
Ph.D. Candidate in Women's Studies
University of Maryland
MITH Conference Room
Tuesday, March 28, 2017
12:30 pm
Digitization and online access are often presented as an important tool for making history, particularly those whose histories are rarely told, accessible to a broader audience. However, what happens to born-digital materials which can technically be accessed—but whose content and format may not be accessible in the contemporary media environment? In this presentation, I'll talk more about my process working with materials from the Usenet Historical Collection to build the Transgender Usenet Archive and conduct my own research. I'll discuss the technical and ethical challenges I faced in building the archive, as well as how these challenges informed my own research into early use of the term "cisgender" in transgender discourse.
See below for a Storify recap of this Digital Dialogue, including live tweets and select resources referenced by Dame during his talk.
Avery Dame currently serves as MITH Winnemore Digital Dissertation Fellow for 2016-2017. He is a Ph.D. candidate in Women's Studies at the University of Maryland, College Park. Avery received his BA (2010) in English from the University of Alabama, Tuscaloosa, and his MA (2012) in American Studies from the University of Kansas. His work has appeared in the Journal of Language and Sexuality, Critical Studies in Media Communication, and TSQ: Transgender Studies Quarterly, and he served as Assistant Editor of AMSJ: American Studies from 2010 to 2012.
His research interests include new media, sociolinguistics, gender and transgender studies, and discourse analysis. While at UMD, his dissertation work Talk Amongst Yourselves: Conceptions of "Community" in Transgender Counterpublic Discourse Online, 1990 – 2014, explores the affective and structural meanings assigned to "community" in English-language transgender discourse online. Drawing on a variety of historic and contemporary sites, he analyzes how users past and present construct "transgender community" in discourse—constructions shaped by different platform-specific affordances. His MITH project focuses on building a searchable archive of two major transgender Usenet groups, alt.transgendered and soc.support.transgender, amongst the few archival sites where the term "cisgender" is used.
Avery's teaching also brings his focus on technology into the classroom. He has developed student projects focused on adding coverage for underrepresented subjects and groups on Wikipedia; You can see some of his students' pages highlighted by the Wiki Education Foundation here. He has also led Game Design workshops for the Design Cultures & Creativity program at UMD.
A continuously updated schedule of talks is also available on the Digital Dialogues webpage.
Unable to attend the events in person? Archived podcasts can be found on the MITH website, and you can follow our Digital Dialogues Twitter account @digdialog as well as the Twitter hashtag #mithdd to keep up with live tweets from our sessions. Viewers can watch the live stream as well.
All talks free and open to the public. Attendees are welcome to bring their own lunches.
Contact: MITH (mith.umd.edu, mith@umd.edu, 301.405.8927).