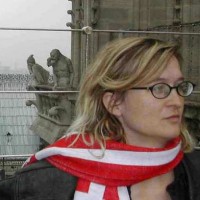 Elizabeth Losh
Associate Professor of English and American Studies
College of William and Mary
MITH Conference Room
Tuesday, October 6, 2015
12:30 pm
The study of computational media still has far to go when it comes to contradicting the solo white male inventor myths that are often reified in mainstream culture, although recent work in media archaeology that emphasizes the manual labor of participants with the apparatus is changing the narrative about the rise of software culture. It is perhaps useful to make comparisons to film studies, where scholarship about the role of labor, organizational communication, institutional rhetoric, domestic politics, systems of credit, and "below the line" production activities has long challenged the model of the lone auteur. Just as women were critical actors in the Hollywood saga in intensely collaborative roles such as casting and editing, pioneering work in computer graphics, virtual reality, interactive entertainment, and multimedia publishing reflected a collective production culture and its associated conflicts. Media studies could still do much more to recover social histories currently stored in informal archives, often in obsolete file formats, to support feminist scholarship, as part of the larger theoretical project of acknowledging the material, embodied, affective, situated, and labor-intensive character of technology. This talk focuses specifically on manual labor in the supply chain of digital media and how many hands don't make light work.
See below for a Storify recap of this Digital Dialogue (now migrated to Sutori), including links to resources and projects that Losh referenced during her talk.
Elizabeth Losh is the author of Virtualpolitik: An Electronic History of Government Media-Making in a Time of War, Scandal, Disaster, Miscommunication, and Mistakes (MIT Press, 2009) and The War on Learning: Gaining Ground in the Digital University (MIT Press, 2014). She is the co-author of the comic book textbook Understanding Rhetoric: A Graphic Guide to Writing (Bedford/St. Martin's, 2013) with Jonathan Alexander. She is currently working on a new monograph, tentatively entitled Obama Online: Technology, Masculinity, and Democracy.
She writes about gender and technology, the digital humanities, distance learning, connected learning, media literacy, and the rhetoric surrounding regulatory attempts to limit everyday digital practices.
She has written a number of frequently cited essays about communities that produce, consume, and circulate online video, videogames, digital photographs, text postings, and programming code. The diverse range of subject matter analyzed in her scholarship has included coming out videos on YouTube, videogame fan films created by immigrants, combat footage from soldiers in Iraq shot on mobile devices, video evidence created for social media sites by protesters on the Mavi Marmara, remix videos from the Arab Spring, and the use of Twitter and Facebook by Indian activists working for women's rights after the Delhi rape case.  Much of this body of work concerns the legitimation of political institutions through visual evidence, representations of war and violence in global news, and discourses about human rights.  This work has appeared in edited collections from MIT Press, Routledge, University of Chicago, Minnesota, Oxford, Continuum, and many other presses.
A continuously updated schedule of talks is also available on the Digital Dialogues webpage.
Unable to attend the events in person? Archived podcasts can be found on the MITH website, and you can follow our Digital Dialogues Twitter account @digdialog as well as the Twitter hashtag #mithdd to keep up with live tweets from our sessions. Viewers can watch the live stream as well.
All talks free and open to the public. Attendees are welcome to bring their own lunches.
Contact: MITH (mith.umd.edu, mith@umd.edu, 301.405.8927).