Marble Springs
Marble Springs, Deena Larsen's best-known work, is a hypertext poetry collection created in HyperCard and published by Eastgate Systems in 1993. The poems follow the inner journeys of the women of Marble Springs, a fictional Colorado mining town, from the 1870s into the early twentieth century; hypertext allows the reader to follow links between the narrators, places, and objects in the poems. Larsen envisioned Marble Springs as a participatory work, allowing readers to add their own poems and biographical data to the work in a manner that left these additions indistinguishable from the original text. Deena writes:

Marble Springs debuted in 1993, the year HyperCard died. I went to the '93 Hypertext Conference, saw the world-wide-web in its infancy (and, of course, completely failed to recognize its significance), and bewailed the announcement that HyperCard would no longer be a supported Apple software. Still, it was worth it. Just being able to be in that world of Marble Springs was worth all of the writing, programming, and fiddling and re-fiddling and debugging and re-debugging. It was even worth doing Marble Springs 2.0 on an antiquated system—even though this never saw the light of day. (Editing William Dickey's entire works after he had died in '94 was worth it—even though translating this to something readable –and figuring out who owns copyrights now—is still on my to do list.) I mounted exhibits of Marble Springs to showcase how quickly things become antique, replete with an old braided rug and a school desk rescued from a mountain-fast one-room school.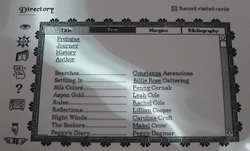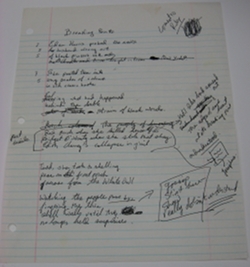 An Emulated Screencast of Marble Springs
As Larsen mentions in her artist's statement, Hypercard, the software she used to create Marble Springs, "died" the year Marble Springs was published. Thus, would-be readers currently have two options for perusing the work: reading it on a Mac antiquated enough to handle the system version and software that run Hypercard (such as the Deena Larsen Collection's Mac Classic IIs), or using emulation software on a newer system. Below is a screen recording of Marble Springs emulated with Mini VMac; to imitate the original viewing experience, the video is overlain on a photo of one the collection's decorated Macs.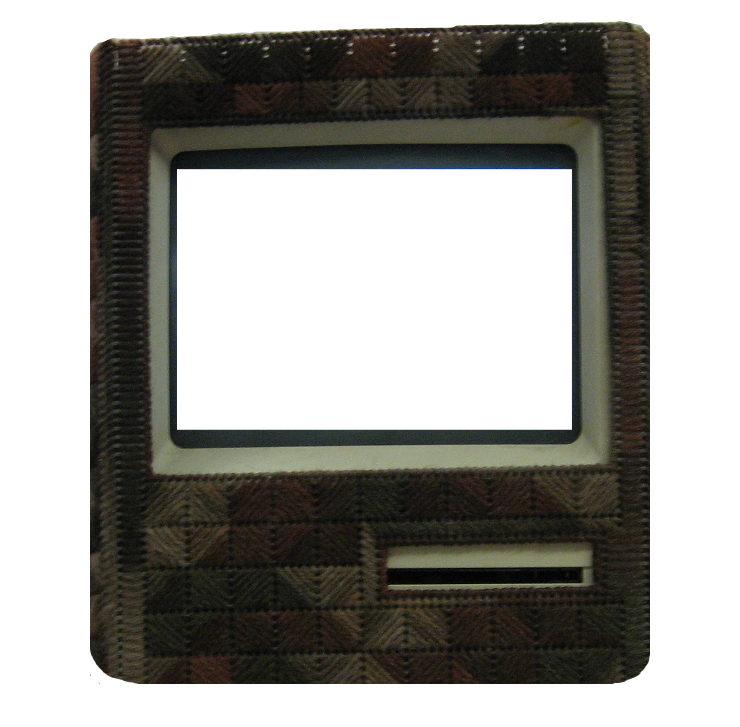 From Marble Springs by Deena Larsen (Eastgate Systems, 1993); reproduced by permission. Marble Springs at Eastgate Systems.